Hello friends it's Tim here again from Super Mayhem, awoo, and boy howdy do we have some fun for you today! We've hacked Mario games, Kirby games, heck even recently the Teenage Mutant Ninja Turtles got their fair share of whacky hacking goodness! So what are we going to tackle today? Well I thought the 1986 classic Metroid for the NES might be a good bet! So what do you think? Are you a fan of this game and/or its subsequent series? Why not smash a like for the love of Samus, hit subscribe and ring the bell if you are new to the channel and let's dive deeply into the planet Zebes as we attempt to hack the nostalgic platformer that is Metroid. I should also note that I have always been a bad player of this game so even with hacks I'm still, well, pretty bad…so with that said Letsa Go!

Before we jump too far into the world of game genie-ing, I thought we might take a moment to appreciate that there are actually different endings to the game! This was pretty forward thinking by Nintendo as it's something many other games would adopt in the future. So just quickly, here is an overview of the 5 different endings and how to get them. Make sure you stick around for the game genie cheats though, you won't want to miss them!
Worst Ending (10+ Hours or 5+ Suitless Hours) – Suited Samus looking away
2nd Worst Ending (5-10 Hours) – Suited Samus
Middle Ending (3-5 Hours) – Samus with her helmet taken off
12nd Best Ending (1-3 Hours) – Suitless Unlock – Suitless Samus (Leotard) waving
Best Ending (0-1 Hours) – Suitless Samus (Bikini) waving
For many players this was the first time they realized that Samus was actually female! This may seem standard these days, but for the time having a female protagonist was also pretty forward thinking. GG Nintendo, GG.
I should also mention that if you are able to beat the game in under 2 hours and then at the password screen you just press start that you will be able to play the game as a suitless Samus, so that's a pretty neat incentive to crush the game. For me though I have to rely on cheats to get that far!
The Western release of Metroid is also well known for its password system, which was actually pretty new to the gaming industry at the time. I won't go into all of them but a few classic/well known or interesting passwords are as follows.
JUSTIN BAILEY —— —— – will have all things and more. As the code claims. This password must be in all caps and all the lines at the bottom of the password. With this entered you will start on the last level, suitless Samus and all items except the Ice Beam. You will still lose health though and you don't have unlimited items, but it's still cool if you want to do some exploring of the final depths of Zebes.
NARPAS SWORD0 000000 000000 – Any major Metroid enthusiast will probably already know this password, but I have to include it because it's so great! With this one you will start at the beginning of the game with unlimited life, unlimited missiles, and all the upgrades baby. The energy meter is a bit funny, you can lose health but then when you hit another enemy it comes seems to come back, at least in some cases. In my quick play with this I found it impossible to die, so that has to say something about this magnificent password! It's really fun to play around with, especially if you are like me and not very good at the game but still want to see what you can acquire if you played it through!
X—– –N?WO dV-Gm9 W01GMI – If you just want to see the arguably best ending to Metroid with a Suitless Bikini wearing Samus then this is the password for you as it it's meant to start you off at the ending screen. However I think I landed in one of the final levels with all weapons. Since I'm a major noob at this game I wasn't sure whether to go up or down, so I got eaten by a Metroid one way and kind of died the other. It's a neat code though!
00U— -u0000 0AFw9Y 1800sb – This one let's you fight Ridley if you are good enough to get to him, which is kind of cool! You also start with missiles and a few different weapons, but I'm actually pretty bad at this game, in case the footage doesn't demonstrate that!
Of course the actual number of passwords is pretty much limitless as you get one each time you die in the game, but these were a few of the stand outs that people have shared online. One could dedicate an entire video just to passwords but I just wanted to showcase a few. Anyway with those passwords done it's onto the actual game genie-ing I think! And lucky for us there is actually a ton of different codes that do all kinds of whacky things.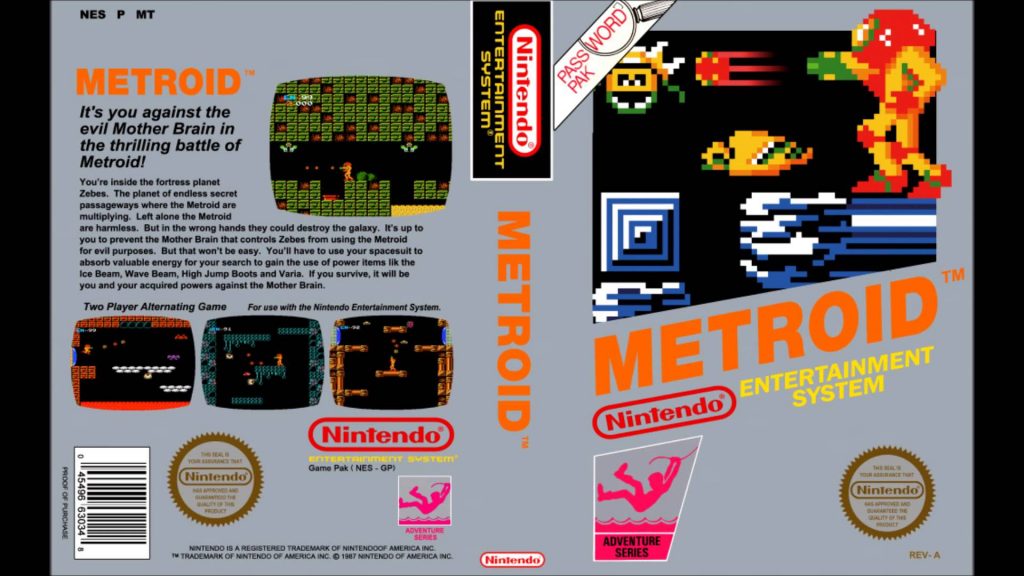 Let's start off quickly with the default game genie codes from the booklet shall we. I didn't record all of these as I spent more time on the more interesting codes but the full default list is as follows:
If you want to limit your minimum energy rather than having infinite energy you can also try the code SXSGNVSE which sets your minimum energy to 30. I'm not sure why you would want to do this exactly at 30, probably because it's your base energy, but hey, it's a code and it's kind of cool since you can't die. Much like the password system code mentioned earlier your energy will fluctuate up and down as you hit enemies, it's a bit odd.
SXSGNVSE Minimum energy of 30
SZUILUVK Infinite rockets on pick-up
ZENSXLIE Gain 10 rockets on pick-up
YENSXLIE Gain 15 rockets on pick-up
YAXGVPLA Starts you off with Extra energy, when I tried it, it gave me 70 health, so it's pretty good but not the best code in the world.
So these codes are pretty cool in their own right but there are some fan discovered ones that are even better or at least more game altering. A pretty sweet code is ALLGKP which starts you off in the game with all items including the Ice beam as well as infinite energy and even missiles! Not bad hey! If you are wanting a simple code that will let you cruise through the game then this is definitely the one for you. Again I should save the best till last but this code is super helpful and probably my favourite of the game genie codes.
If the game seems to slow for you then you can try the game genie code EENTPU which sets you up for "fast speed mode" and man do you motor around! You can out run your friggin bullets even! If this is too much like sonic for you or you just want to slow things down completely, then try the opposite code that is EENTAU which puts you into "slow speed mode", you might think that this would make it easier to get past those pesky enemies however they move at regular speed. It is only Samus that seems to have acquired the snail ability as it is almost painful to play the game with this code. Maybe it's something speed runners could try and utilize? I'd hate to see the completion time though!
There is also a bit more of a whacky code that lets you go through walls when you are rolled up in your ball! Just enter in the code SSAEAI in your game genie screen and you can fly or rather roll through levels like it ain't no thing.
Another interesting cheat is LLLVSV which is supposedly meant to put bombs where balls should be for some reason. However when I used this code whenever I was going to go left to get the morph ball ball, if that makes sense, the game reverted back to the starting screen making it impossible to progress in the game! Game genie codes can get pretty whacky and this is just that.
A good starting point is AOPEPS this code puts you into a weird frozen kind of front flip position when you aim upwards. It's kind of odd because you are facing down like you are about to do a cannonball but don't worry, you can still shoot upwards with this cheat.
Now we are going to move on to some rather interesting graphic related codes that someone named severedmagestic discovered, so many props to them and their hard work. These are great fun as they do all kinds of weird and wonderful things to the game so stick around for these bad boys.
If you just change the first letter of the previous code, you can get some different interesting results. Such as GOPEPS this one, when you aim up, you turn into your morph ball! This is weird enough, but when you push the D-pad another time you will actually dig into the ground. It's a super weird cheat, especially since you can dig off the screen. If you dig in the wrong spot your energy will deplete and you will die. However in the third room I was able to go through the floor to what I think is a part of the game you aren't meant to reach yet! When I got all the way to the bottom I just went through the floor until I came back down from the top, I was stuck but I didn't die! It's the little wins that count.
Fancy shooting out of your butt when holding up on the d-pad? Well with the code POPEPS you can do just that. I'm not entirely sure why you would want to, but at least you can…right?
If you want to completely screw up levels then the game genie code LUSTNN will help you do that. I only tested this out on the first level so I can't say how it will affect later levels but it's definitely a change from the normal play of Metroid. Once you get the morph ball you get stuck because the level is all whacky. In fact I couldn't even get past the second room because bits of the level were all over the place! This may behave differently on your version of the game though so be sure to give it a go.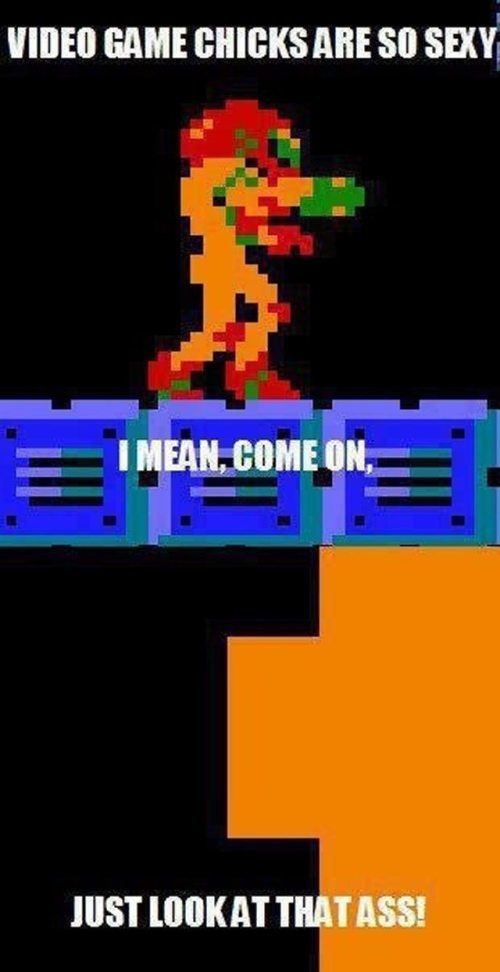 Similar to the previous code EATTUN is another odd level screw up code, when using this cheat code the level kind of half disappears and is gone! Good luck playing the game like this! You can fall through the floor, lose a bit of health and then fall from the sky when getting the morph ball. When going right you can kind of land on the non-existent floor, again losing health, and jump off it so the game may actually be possible to beat, but I kind of doubt it unless you combined it with an infinite energy hack!
There are some further cheats that will help with the game, for example the code PIPEPS will cause most enemies to freeze in their positions. I'd like to say this makes the game a fair bit easier to play but as the enemies can be frozen in a path you need to take it can still be a problem! There is a similar but better code to this that is KISTOL which either makes monsters/enemies completely gone or weirdly stuck in the floor. I still managed to die but it's a fun code to try yourself as you never know what will happen!
AGLISS is another neat cheat if you want to make the game a bit easier, when you kill enemies they will become energy tanks that give you 20 health! Pretty sweet!
Anyway that's it for today friends! I really hope you enjoyed hacking Metroid on the NES with me! If you did then don't forget to smash a big fat like on it so other Metroid fans can see it, subscribe and ring the bell if you are new, and as always a huge thanks to Jacob Clark for being our long time Patreon supporter! If you want to be as cool as Jake then check out the link to our Patreon page in the description below and pledge as much or as little as you can to help the Mayhem keep on rocking. Anyway that's It for today and I'll catch you soon!