Hello friends it's Tim here from Super Mayhem again, awwoooo, and today we are jumping back on the game genie bandwagon to do some mad hax bros! So what's on the table today? Well if the video title didn't give you a hint we are focusing on the classic 1989 Ninja Turtles game for the NES!
I was a bit sceptical going into this video as to whether there would be many game genie codes for the game but with a bit deep net scraping and YouTube hunting I was able to put together what I think are quite a few damn awesome codes. So with that in mind make sure you smash that like button, whack on subscribe and ring the bell and whilst you are at it maybe even share it with your friends on social media or something too. Share the love my friends! So sit back, relax and letsa go as we hack one of the most well-known difficult NES games.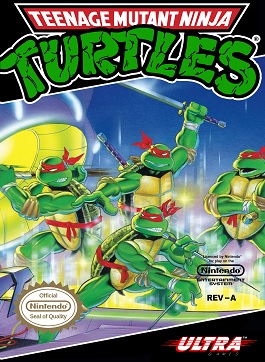 So before we get into the actual game genie-ing of the game there are a couple of little tricks you can use without the device. Firstly apparently the Konami code will give you 4 continues instead of the usual 2, which is pretty handy and makes sense since Konami originally developed the game. Also there is an easy way to get health back for all your turtles by finding a level with some pizza at the beginning or the end of it, then simply pick up the pizza, leave the level and then return to the level, the pizza will have re-spawn. Most of us probably worked this one out but I felt the need to include it at the start. Anyway onwards with the real hacks!
They say you should save the best till last but since I'm going to be using this hack in combination with most of the other cheats in this video I may as well open with it. If you enter the code GXVPTIEP in your game genie you will be able to attack anywhere and it will hit all of the enemies on the screen. This includes the top map and even if you use items like throwing stars. This is a freaking amazing cheat code! You can cruise through most areas without a problem and considering the difficulty and my crapness at the game you can probably tell why I will be using this one for most of the video.
There is another code that can go hand in hand with the aforementioned cheat and that is AOXPSPEY which makes all enemies, including bosses, susceptible to death after just 1 hit! Pretty handy for sure.
Another few interesting codes are EIUPXIEY which attacks as you walk or in any direction you use on the D pad and even a code that will automatically attack when an enemy runs into you by using the cheat ESUZLAEY. You will still take damage with these codes but a combination of any or all of the above cheats should cover you nicely.
Unfortunately as mentioned, even with these super cheats you can still take damage. How's that for a game, even when you can kill everything on screen you still can take damage? Damn that is some serious NES power. Anyway, lucky for us there are a couple of codes you can try that will stop you taking most if not all damage in the game.
AOSOUAST gives all turtles infinite energy which is pretty sweet, you can just walk past enemies pretty much without giving them any turtle soup. I'm not sure if it is because I was using this code or not but sometimes the enemy boss music would play whilst there were still normal enemies on screen and the boss would only appear once you killed the random enemy. As I say, this may not be because of the game genie code though. This code won't work on all things though, for example the spikes on stage 6 will still cause you to lose life and eventually die. Also the electric seaweed in the dam part of stage 2 will still give you damage or kill you in 1 hit if it's the serious stuff. Apparently either the code ESKZAIEY or SXVZGSOO will prevent this but I have had enough of that horrible water level from my childhood so I didn't test this one out myself as I didn't want to go back to it. Try one of the codes yourself though and leave your findings in the comments, at least 1 of them should work!
If you want more time under water then the cheat code EISZEPEY is the one for you too, it gives you infinite time under water which means you can take your time navigating the damn water level's notorious electric sea weed.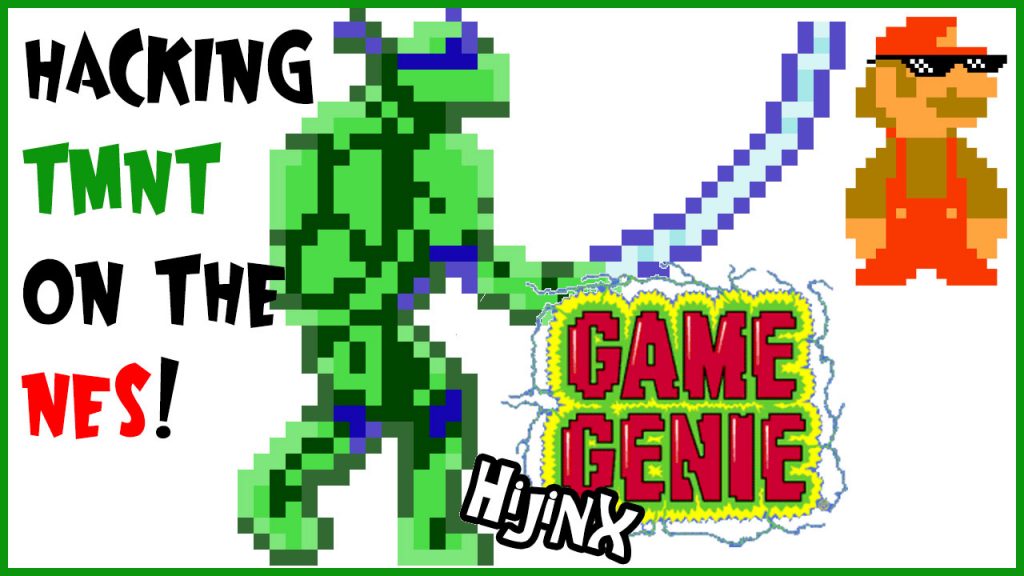 There is also an invincibility cheat code that is SXOPPIAX which acts a bit differently. It's almost like you are on a different layer than the enemies and you can walk through them and their hits don't even register at all. This is all well and good and will let you get through most of the game, but unfortunately you can't pick up power ups either which means on stage 4 at the latest you are going to get stuck on this giant pit. When you restart the level after falling in the hole you do lose 1 bit of health so it is at least possible to die even if you are invincible. So that's something.
If you are interested in more enemy related codes you could try EIEVEYEY which sticks all enemies and projectiles in place, or even the code AAEEPP which completely reduces the number of enemies in the game full stop! This code seems to only load enemies that appear on the first screen of the level but it will still load boss battles and enemies that you need to defeat to pass the level.
And in case you were wondering, my favourite game genie hack is available in this game! Just enter the code KKKKAA and you will enable moon walking! Bring out your inner Michael Jackson and your smooth moves and non-spinning inner jump will come out. Apparently even some enemies will moon walk as well though so you better be careful before Shredder makes a delicate soup with you.
If you are tired of playing a certain stage or if you are simply stuck then there are also some great codes to start at different stages in the game as well.
To Start on Stage 2 enter in AGNKITTK PANKLTLA.
To Start on Stage 3 the codes are AGNKITTK ZANKLTLA You will start at the original spawn point no problems and even the classic van is there! If for some reason you do want to see your turtle as the party van on any occasion on the main map screen then the code ISXAGE might be of service as it does just that. It's a bit glitchy and can turn into enemy cars and if you attack at the wrong moment you will turn into the missile icon for some reason. Good times.
To start the game on Stage 4 just enter in AGNKITTK
The weird night Stage 5 is AGNKITTK GANKLTLA
And finally to start on the final Stage 6 the game genie codes are AGNKITTK IANKLTLA
If you just want to see the ending whilst starting a new game then the code IAXGPTZA will also allow you to just jump to the ending and save all that pesky ninja weapon wielding.
If we dig a bit further into the interwebs there are actually some default game genie codes for the game too, however I'll note that I don't think my own book had these for some reason, but anyway they exist and are codes are as follows, even if I didn't record them:
ZENOATGO Pick up 10 weapons only
ZUNOATGP Pick up 50 weapons at a time!
AEOOGTZA Full energy boost from pizza slices
GPUOLNZA 20 missiles on pick-up
TAKOPYLA Double rope on pick-up
SXVXTLVG Never lose rope
There's not a lot more to say about these cheats but they exist and can be of course helpful, but maybe not as helpful has hitting everything that is on the screen in 1 hit. You be the judge of that one.
There are some nonstandard codes that kind of ramp up the Gotlieb included ones, including the code LVNOATGP which lets you pick up 99 weapons at a time using any turtle. Or even picking up 99 ropes in one go with the cheat AYKOPYLY.
If you are tired of the same old music on the game map, then the code YIEKKGLS will probably be right up your ally. For some reason this game genie code modifies music on map. It's kind of cool! On the flipside if you hate the music then try the code IIIPAP which stops all music and turns off the sound completely.
Still playing with the music the code AXPEXL will turn the bit tunes into what appears to be piano music.
There are a couple of other random cheats that will mess with the game in various ways, such as the codes OXSKLLSX POSKGUVN which puts the game into black and white mode, a bit like the Gameboy as the entire game including title, maps and levels are all in black and white. Another interesting one is OPPSEL which does odd things to the x axis on the top level map. You can sort of go right to the edges of the map and more content will start to display, giving us an insight into perhaps hidden bits of the game. It didn't capture too well but you can see the X-Axis loop around when I hit the edge of the screen. Give it a go!
You can also try the code SAEKVEEZ which will let you travel anywhere on the map screen, which is actually pretty awesome! The downside of this as that the foot clan can also travel anywhere they want, so watch out for them cars or you will be splatted! Another downside is that you can't seem to enter any levels either…so this is a code that is more for exploration than practicality.
SOKIAL is pretty whacky and completely changes the colours of levels for some reason, but this does make the water level pretty funky so if you need an excuse to take a dreadful dip then this code might be that excuse. In my case it made the level blood red! It did kind of help to see where the sprites of the seaweed started though, however this didn't help me get passed them.
Unfortunately I couldn't get this one working with my copy of the game, but it is meant to be an awesome code! If you want to completely screw up enemies, fight cloned turtles and even have fireworks when you kill them then the code ISOAGE will be right up your ally. It's a bit of a strange one, but heck we are looking at glitches and stuff here. It's a shame it just froze my game after a few seconds as I would have really loved to explore this one. Give it a try yourself!
And finally we will end with a bit of a silly one. if you want to cruise around the map without using those pesky pair of legs you have then try the cheat EIUXZTEY and you will be able to walk around without walking around…if that makes sense. In a level it acts a bit differently. On platforms after climbing ladders your legs will stay stuck together but on the bottom levels they still work! Also if you hit the attack button your sprite will look as if it is attacking constantly without actually attacking! It's super weird but a fun glitchy code.
Anyway that's it for today friends! If you enjoyed hacking the Teenage Mutant Ninja turtles with me then why not smash a like on this bad boy before it's too late! If you are new to the channel don't forget to subscribe, ring the bell and share Super Mayhem with your friends. As always a huge thanks to Jacob Clark for being our long time Patreon club member. If you want to be as cool as Jacob then why not head over to our Patreon page via the description below and pledge as much or as  little as you can. Each bit helps with server costs, domain renewals and all those other fun bills that come along as a creator.
Anyway that's it for today friends, I'll catch you soon.